Watch This Video To Learn More
Painting Guide to Multi-Layered Panels
Learn to improve your artistry in this third course of the 4-course Creating Dimension video series.
The Creating Dimension 4 courses include:
Course 3 will teach you to create glass panels with incredible depth and dimension. In over 11 hours of video content, you'll take a deep dive into how Paul creates these panels, covering painting techniques, how to paint realistic landscapes, and how to maximize the feeling of depth and dimension in your multi-layered panels. He goes into more depth on the topics of image selection, how to divide your images into layers, and where to find images. He also includes painting and composition tips, how to display your work effectively, and how to deal with repairs and coldwork.
This course includes over 5 hours of painting demos. You'll also improve the look of your own projects by his own examples, as he decomposes 10 different example pieces, showing you exactly how he divided the layers, and discussing the specific challenges in each piece and how he solved them.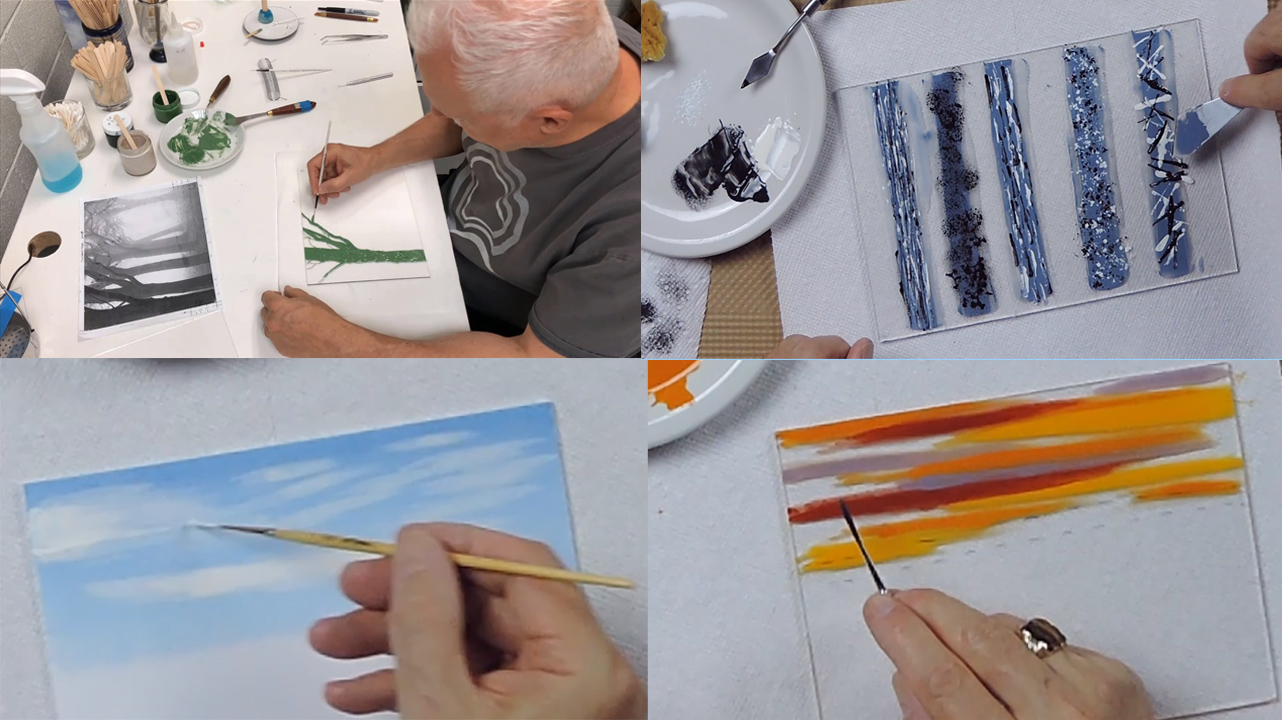 Through extensive demos, learn how to paint common landscape elements including trees, lakes and oceans, clouds, and gorgeous, colorful sunsets.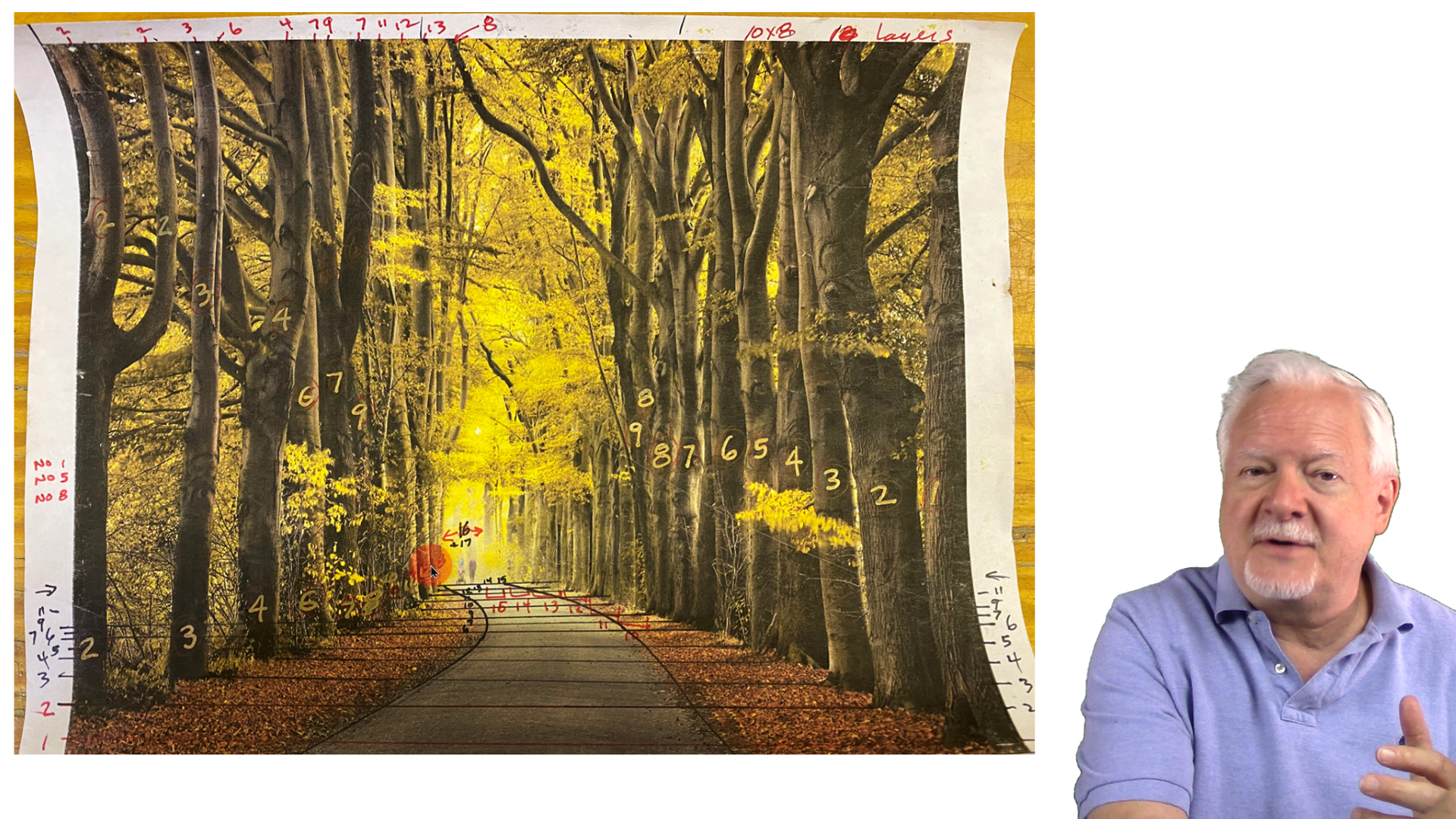 Learn the secrets of how to select images, and divide them effectively into layers to create depth.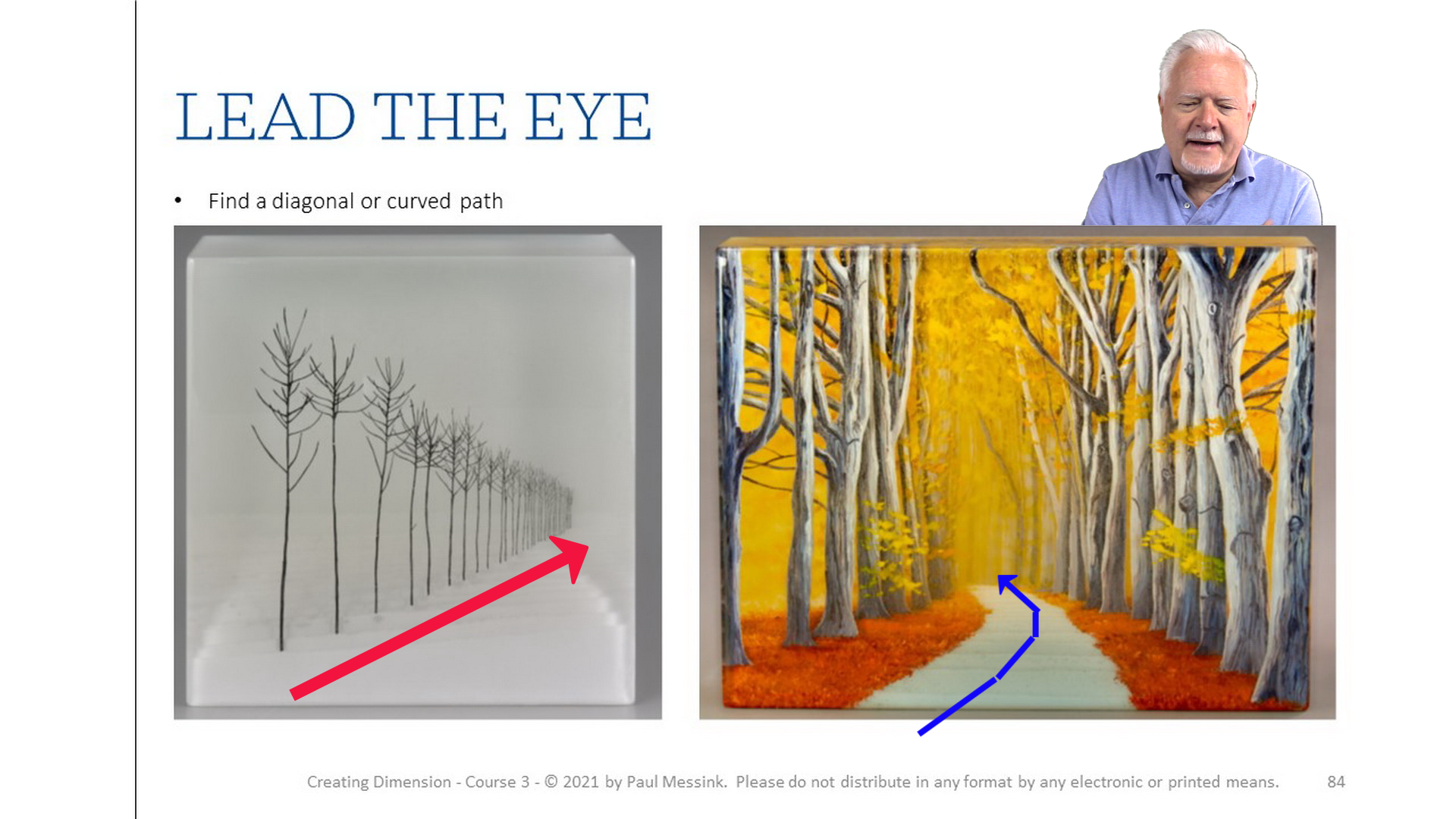 Your work will improve as you learn how simple composition tips can be applied to your own landscapes
What is Included in the Course?
Course 3 contains over 11 hours of video content, fairly evenly divided between instruction and demos. To make this much video easy to watch, the course is divided into 18 chapters, so you can watch exactly what you need, at the time you need it. The videos never expire, so you can watch them over and over. Here is how the course is organized:
Chapter 1 - Introduction to Course 3
Chapter 2 – Tividale Park – A Time Lapse Video
Chapter 3 – Painting Technique Demos
Chapter 4 – Sunset, Cloud, and Water Demos
Chapter 5 – Ground Lines, and Grounding Your Objects
Chapter 6 – Process Images, Part 1
Chapter 7 – Managing Your Layers
Chapter 8 – Creating Dimension
Chapter 9 – Image Selection, Revisited
Chapter 10 – Dividing Images Into Layers
Chapter 11 - Process Images, Part 2
Chapter 12 – Where and How to Find Images
Chapter 13 – Painting and Composition Tips
Chapter 14 – Putting It All Together
Chapter 15 – Displaying Your Work
Chapter 16 – Coldwork and Repairs
Chapter 17 - Process Images, Part 3
Chapter 18 - Course 3 Wrapup
Each of the demos have been recorded with multiple camera angles, so you can watch them from an overhead view as well as a side view. (With these close-up camera views, you'll be closer to the action than you can get in a live course!)
Course 3 also comes with an extensive set of handouts, including roughly 100 pages of information that give you all the most important information in written form. Two separate handouts summarize all of the firing schedules, and the materials lists for each project and demo.
Raise your artistry to a new level, while painting beautiful multi-layered panels that dazzle the eye, and which invite new buyers to purchase your work.
Complete materials lists are provided. 
And easy-to-follow purchasing
> Instructions & Materials List Here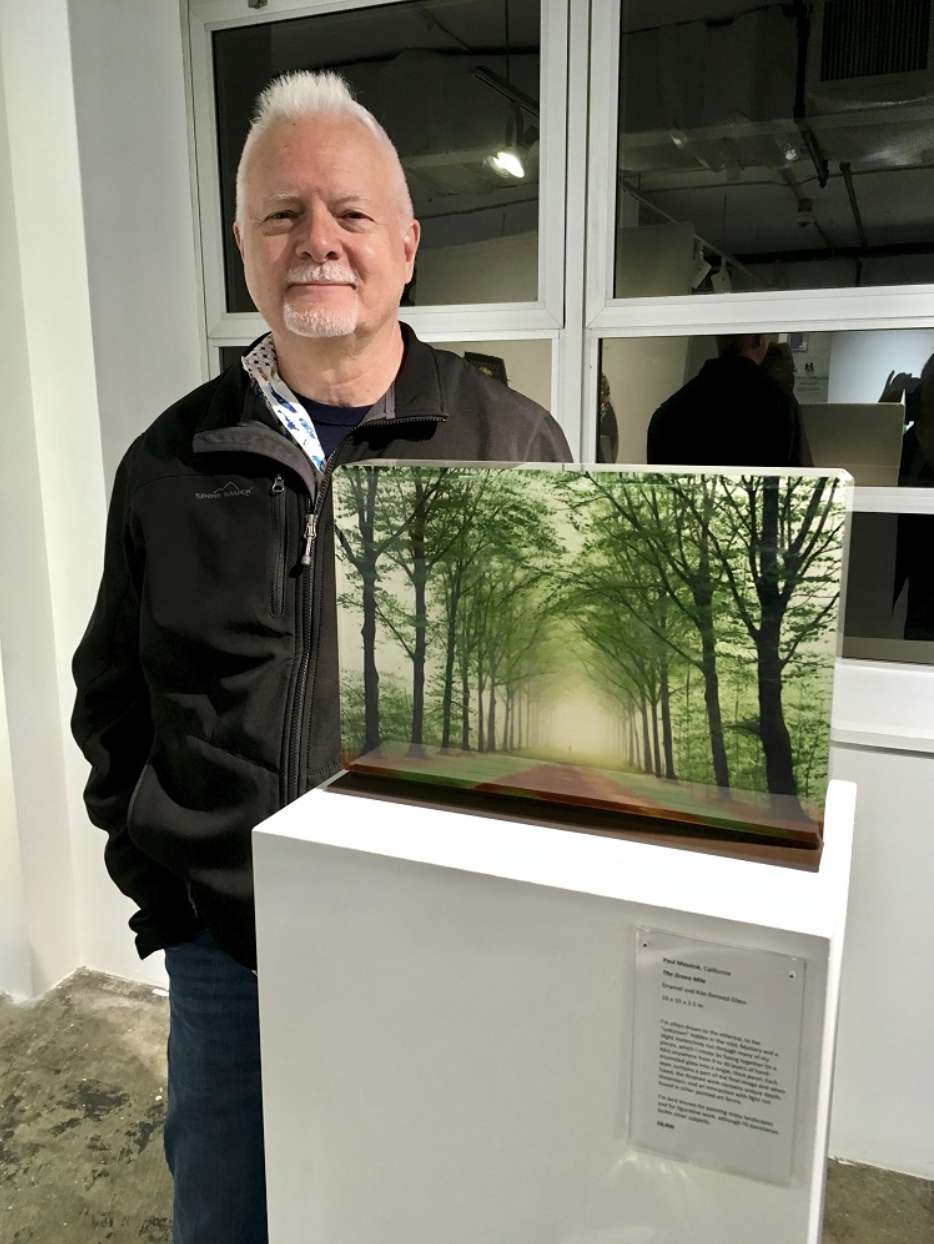 Your Instructor
Hi, I'm Paul Messink
I've worked with glass for 18 years, and have been teaching my layered painting technique for 8 years. My Creating Dimension video series gives you every bit of knowledge you'll need to paint and fire your own beautiful panels - I hold nothing back!
In late 2020 I began improving and reorganizing the original video series. My completely new and revamped video series comes out in 2021.
My 4-part series include extensive video lectures and recorded demos, along with detailed, downloadable, industry-best handouts that include firing schedules. These materials never expire! I'm so proud to bring you this incredible course that continues to receive 5-star ratings for excellence.
For materials or tools you need, head over to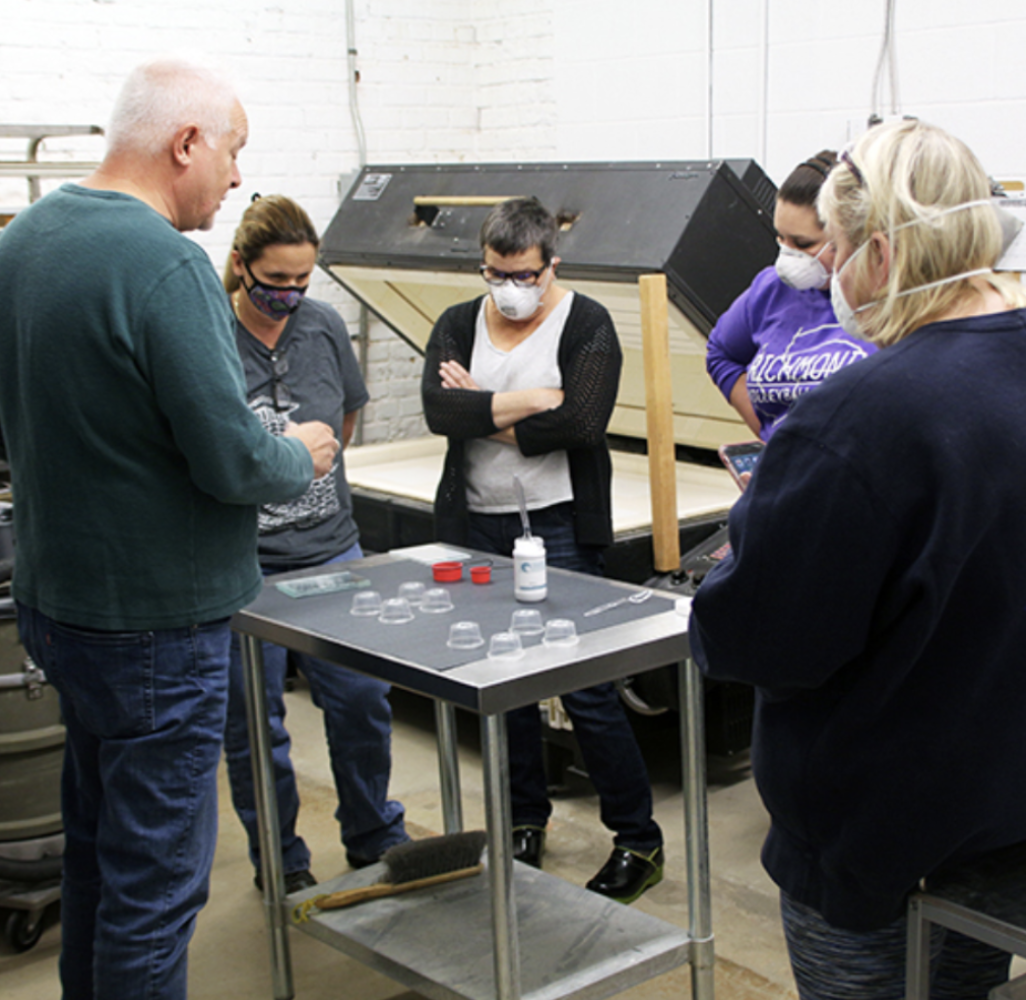 I've thoroughly enjoyed Paul's whole series. Starting at the bottom of the enameling learning curve, I now feel much better, safer and knowledgeable. The first Chapter, in particular, answered many, many questions I had regarding various brands of enamels, comparing and contrasting them in a proficient manner. And the various ways to mix dry vs. wet substrates, consistencies, and storage tips have likely saved me much time and money just experimenting on my own. 
I guess that's the take home: I am more confident starting out. I've been given ways to approach enamels and techniques, options, before starting to experiment on my own. I can only hope that the "muscle memory" I gain in my process will be as elegant and beautiful as Paul's. - B.C.
Featured Products
You can purchase Courses 1-4 as stand-along courses, or as part of a 4-course bundle - the entire Creating Dimension video series.
If you have already purchased Couse 1, a 3-course bundle still gives you Courses 2, 3, and 4 at a reduced price.